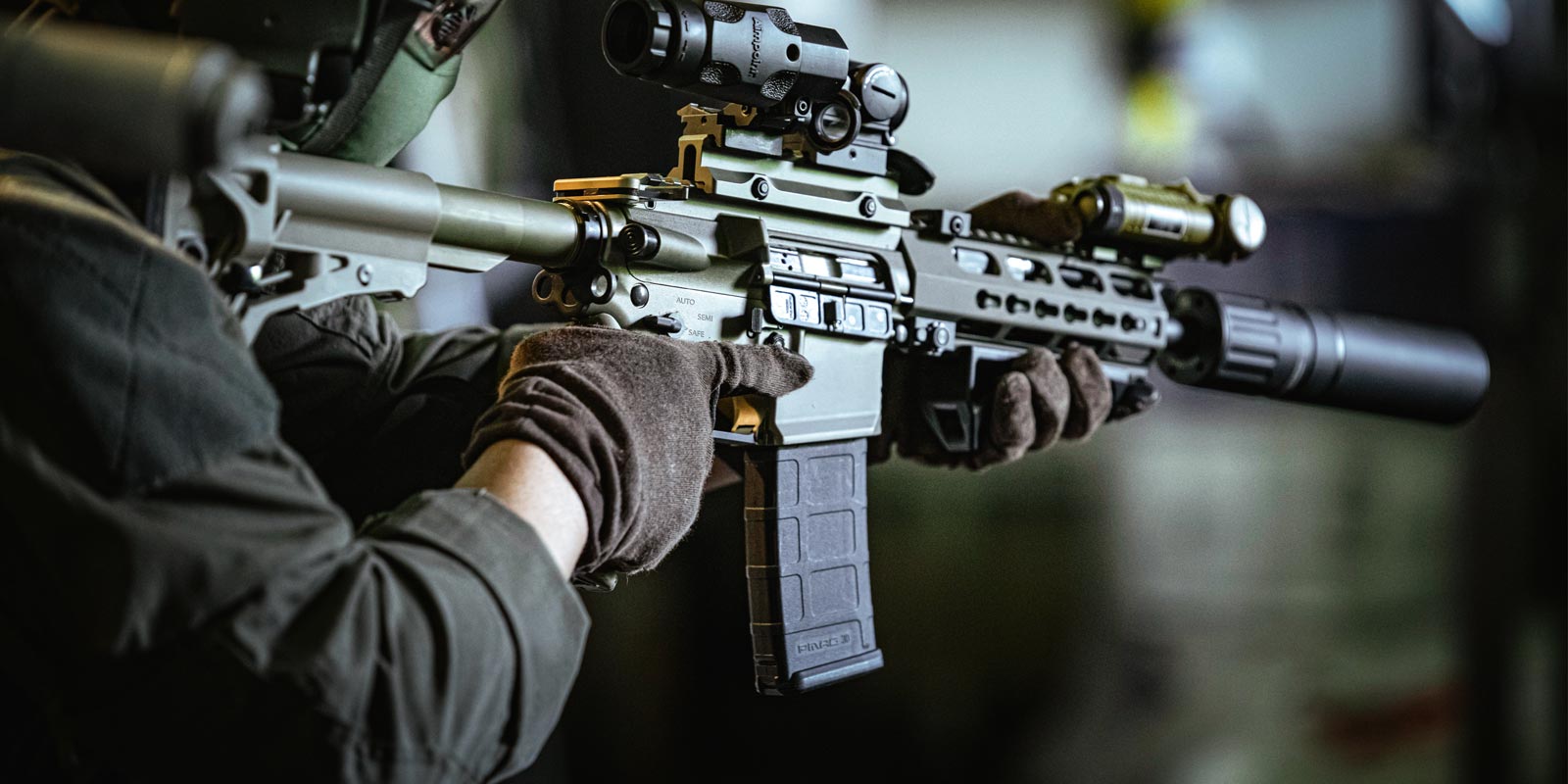 MK556 assault rifle

The former chief designer Hugo Schmeisser developed and built the first assault rifle at C.G. Haenel in the 1940s. With the civilian CR 223, Haenel is now continuing the long tradition of automatic and semi-automatic weapons. MK556 is a fully automatic assault rifle developed and built in Suhl according to military requirements. High compatibility with the standards of this rifle category and indirect gas drive with adjustable gas take-off for silencer use are just two of the decisive details that speak for the rifle. The MK556 has a cold forged, chrome plated barrel, has been tested in all climates and is OTB (over the beach) certified. The MK556 was the surprise winner price/performance of the first decision to tender for the new 2021 assault rifle for the German armed forces, after the vast majority of bidders in the international tender had withdrawn from the competition.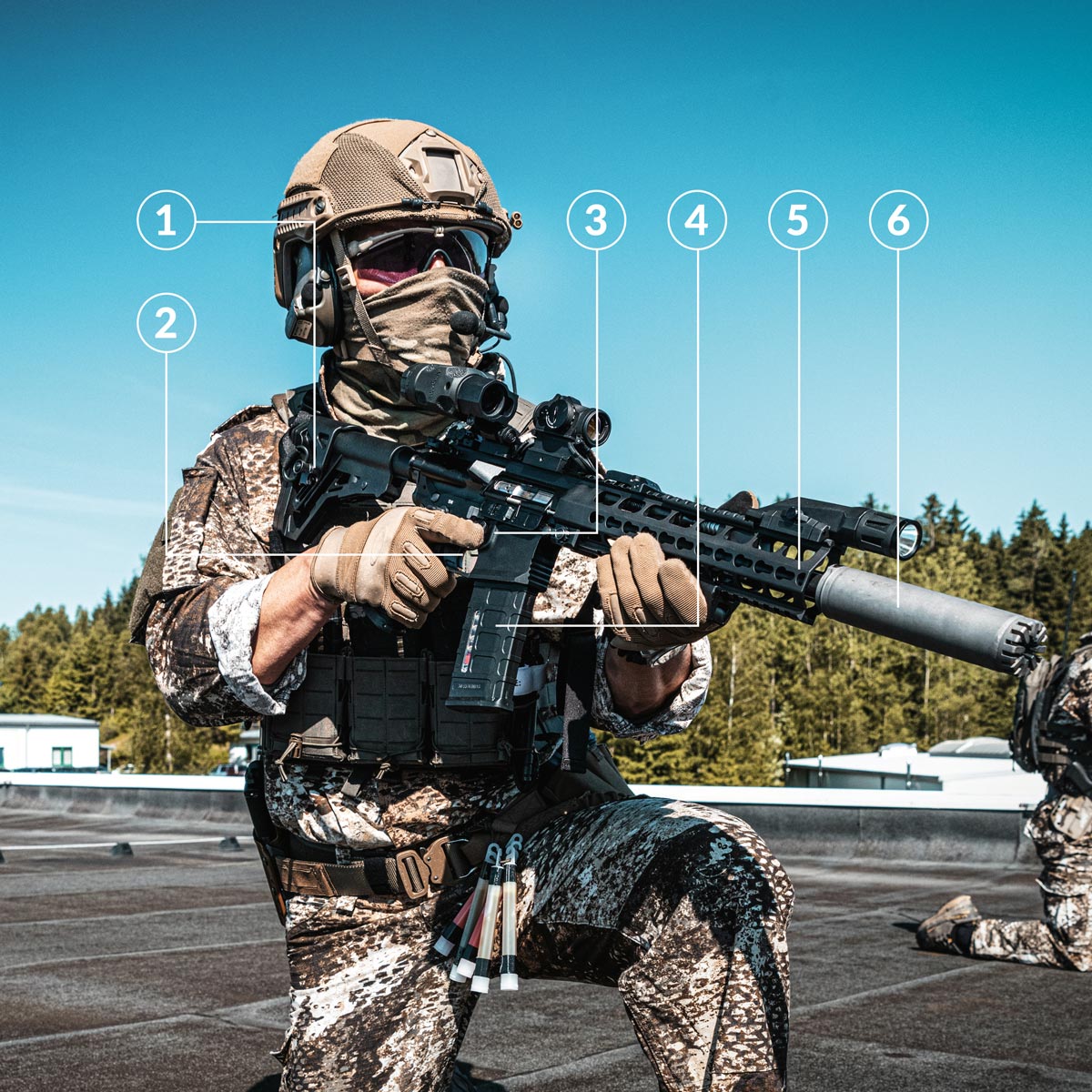 Lightweight, modular and length-adjustable shoulder rest with height-adjustable cheek rest; compatible with AR 15 Mil-Spec.
Modified AR pressure point trigger. Can be secured in the knocked down state.
All controls can be used on both sides. The fire selector and the safety lever are enlarged.
Standard AR magazine mount – compatible with many commercially available magazines.
Toolless removable handguard with 2 NAR rails top/bottom and two keymod interfaces right/left.
Convertible gas pick-up for silencer operation. Here with a silencer from our Swiss system partner B&T.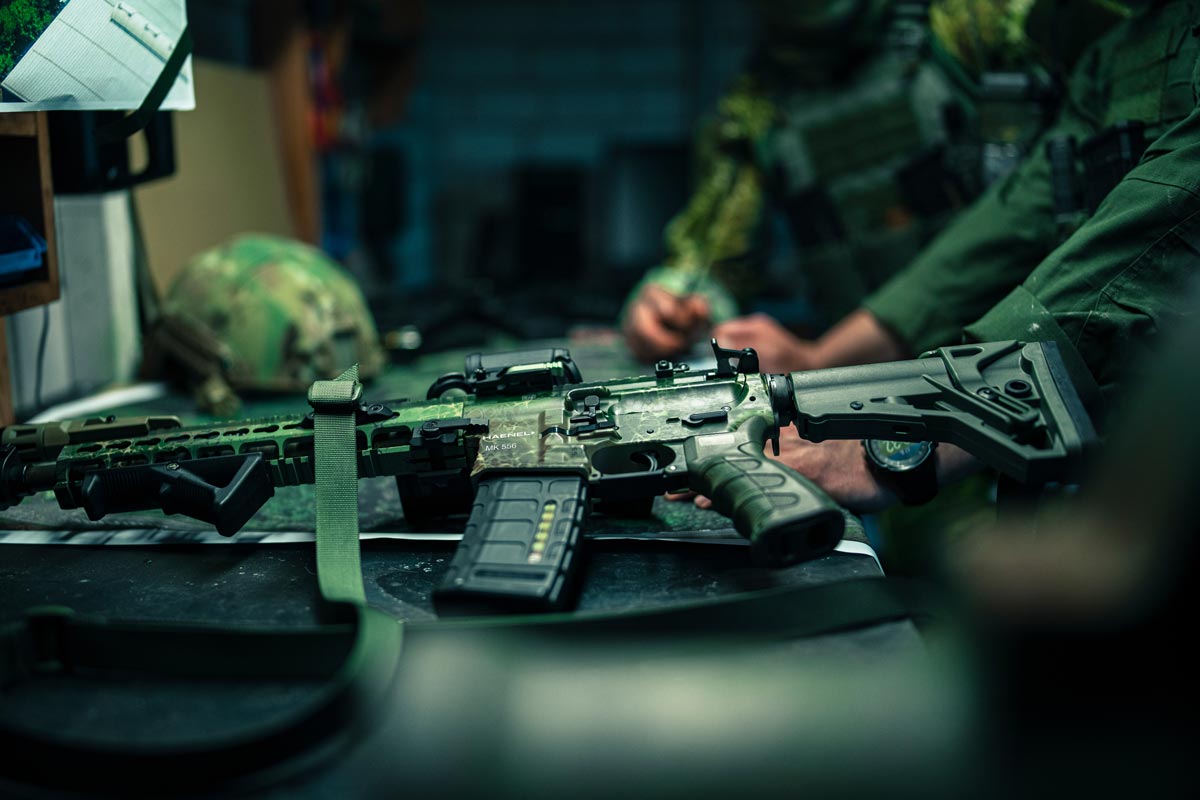 Developed for tough use

A rifle system for the army cannot be developed without the army. Operational forces and experienced soldiers from special units helped write the specifications for this unusual weapon. The MK556 strikes a safe balance between compatibility with the AR15 standard and a great many operational improvements.
Always safe to use
With large fingers, gloved hands, from the right or from the left: The ergonomics of the MK556 assault rifle are designed for safe operation from both sides, even under unfavourable operating conditions. Special details such as the height-adjustable cheek piece or the hand guard that can be removed without tools distinguish this assault rifle.

Hunting


Sports


Defence / Authorities

MK 556 - the assault rifle system in NATO calibre 5.56 x 45. The fully automatic rifle was specially developed to meet military requirements and is available in various barrel lengths. Characteristic: piston system with adjustable gas release for adjusting to the suppressor.

| | |
| --- | --- |
| Caliber | 5,56 x 45 mm |
| Overall length | 10,5": 696mm – 781mm / 12,5": 748mm – 812mm / 14,5": 798mm – 883mm / 16": 838mm – 923mm |
| Buttstock | modified M4-telescopic-buttstock, adjustable length in 6 stages |
| Gas-release | with adjustable gas-release |
| Flash hider | A2 Standard (further options on request) |
| Barrel length / twist | 10,5": 266mm, 7" / 12,5": 318mm, 9" / 14,5": 368mm, 9" / 16": 408mm, 9" |
| Handguard | Hand guard with two NAR and two KeyMod rails, removable without tools |
| Weight | 10,5": approx. 3,35 kg / 12,5": approx. 3,4 kg / 14,5": approx. 3,5 kg / 16": approx. 3,6 kg |
| Trigger | Direct trigger with 3.200g weight |
| Magazine capacity | 30 rounds |
| Safety | firing pin safety, ambidextrous, 0°/60°/120° or 0°/90°/180° |
| Sight | foldable mechanical sight |
| Colours | sand (similar RAL 8000), black or olive green (RAL 7013) / further colours on request |